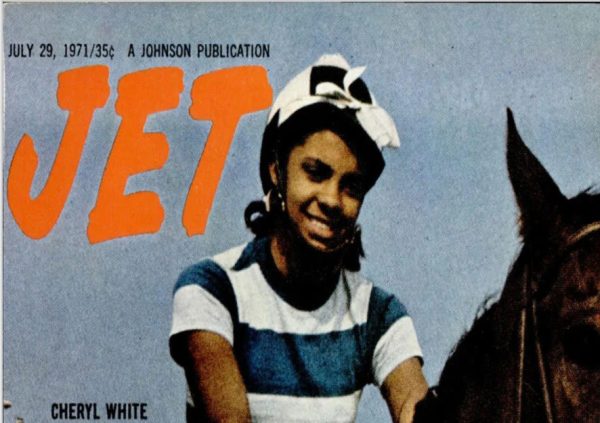 When given the option of pursuing a degree in mathematics at Bowling Green on a scholarship or pursuing a career in horse racing, she chose the latter. Cheryl White spent her childhood surrounded by horses. She had known she wanted to be a lady jockey since she was a child.
She had a strong passion for horseback riding and was always striving to be the best. She allegedly told herself that if male jockeys could make money riding horses, she wanted to be in the same room as a female jockey.
Raymond White, her father, was a jockey in Omaha, Nebraska in 1924 and rode in many cities such as Cleveland, Chicago, and Cincinnati. White learned how to ride horses from her father. Her father received his horseback riding license in 1930 at Washington Park in Chicago, where he also trained horses.
Raymond White had two horses at the Kentucky Derby before his final ride at Coney Island in Cincinnati in 1934. Doris White, White's mother, also bred mares and owned three Thistledown competitors. Inadvertently, White was surrounded by horses and naturally learned the business of riding.
When she was five years old, she received her first pony. She learned how to guide horses at the same age. Her father recalled White's childhood desire to be a jockey, indicating that he was not surprised when she purchased her own horse.
White told the Star Beacon in 2007 that she probably learned to ride horses before she could walk. Kathy Kusner's ambition to become a colossus in the jockey world was boosted when she won a legal battle to become the first licensed female jockey.
On June 15, 1971, White competed with her father's horse to become the United States' first Black female jockey. According to andscape.com, she was made the cover girl of Jet magazine on July 29, 1971, one month after she received her license.
In September of the same year, she rode her father's horse to victory at Waterford Park, becoming the first Black woman to finish first in American thoroughbred racing history. White received $35 for each mount she completed, plus an additional 10% of her horse's earnings for finishing first.
By the end of her 21-year career, she had won 750 races and earned approximately $762,624. The Triple Crown was the only race she couldn't compete in.
In 1994, White was one of 18 people honored at the Bluegrass Black Business Association's African-Americans in Thoroughbred Racing Industry Awards.
She made history when she became the first female jockey to win two races in different states on the same day, one at Thistledown in the afternoon and the other at Waterford Park in the evening. According to andscape.com, one of her best performances in her sophomore year of racing was when she won the $7,500 Boots and Bows Handicap in Atlantic City, New Jersey, against top female riders Diane Crump and Patti Barton.
White, 65, died of a heart attack in 2019.