The White House has denied declaring war North Korea, with a spokesperson labeling the claims as "absurd".
"We have not declared war against North Korea and frankly the suggestion of that is absurd," White House spokeswoman Sarah Huckabee Sanders told reporters last night.
Sanders was responding after a North Korea's foreign minister yesterday accused President Donald Trump of declaring war against his country and said Pyongyang was ready to defend itself by shooting down US bombers.
Speaking to reporters outside his New York hotel, Foreign Minister Ri Yong-ho responded to Trump, who had warned on Twitter at the weekend that North Korea "won't be around much longer" if it keeps up its threats.
Ri, who attended this year's UN General Assembly session, said the international community had hoped that a "war of words" would "not turn into real actions".
"However, last weekend, Trump claimed our leadership would not be around much longer," Ri said.
He declared a war on our country.
Alarm over Pyongyang's nuclear and ballistic missile programs dominated this year's gathering of world leaders at the United Nations, amid fears the heated rhetoric could accidentally trigger a war.
Those fears were further heightened after US bombers flew off the coast of North Korea on Saturday.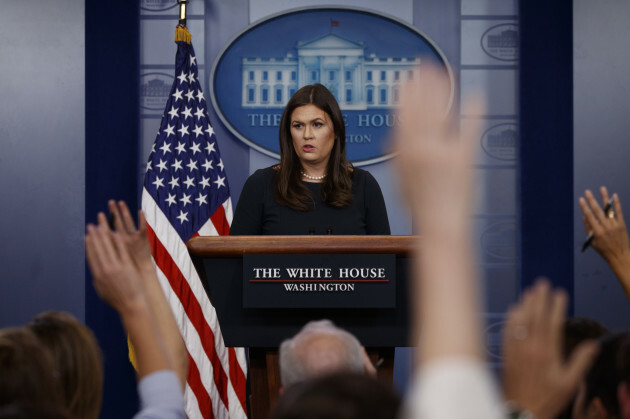 White House press secretary Sarah Huckabee Sanders speaks during the daily press briefing.Source: AP Photo/Evan Vucci
"Since the United States declared war on our country, we will have every right to take counter-measures including the right to shoot down US strategic bombers even when they are not yet inside the airspace border of our country," said Ri.
The question of who won't be around much longer will be answered then.
The foreign minister said the statement from Trump was "clearly a declaration of war" even if it came from the US president. Under the US Constitution, Congress is the sole power that can declare war.
The White House disputed the Ri's interpretation of Trump's sabre rattling.