Former world footballer of the year and presidential applicant in Liberia George Weah says the upcoming overflow vote are about the expectations and fate of the West African nation.
"No measure of dread strategies and terrorizing will prevent the Liberian individuals from understanding the change they really want," he included in a message posted his official Twitter handle.
Weah who drives the Congress for Democratic Change (CDC) enters the run-off vote with current VP Joseph Boakai of the Unity Party (UP).
No amount of fear tactics and intimidation will stop the Liberian people from realizing the change they truly desire.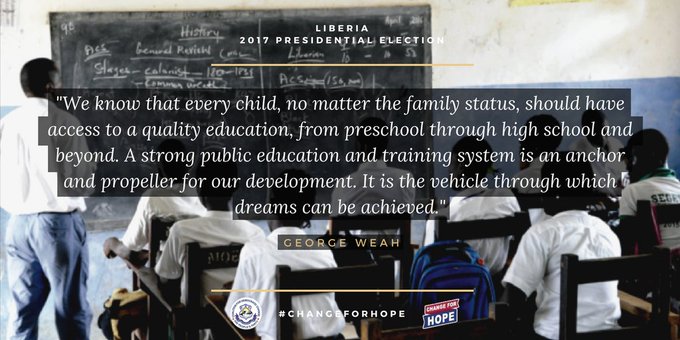 Weah polled 38.4% in the first round as against Boakai's 28.8%. The run-off between the two became necessary because none of them had the fifty percent plus required. Liberia like most English speaking African countries have a two round voting system.
Winner of the November 7 vote will replace Africa's first democratically elected female president, Ellen Johnson Sirleaf who has served two terms after winning the first post-civil war polls in 2006. She secured re-election in 2011.