If you were not in church over the weekend, you surely missed out on Jesus Christ's anticipated "Second Coming." A Jesus Christ literally visited a church over the weekend in Kenya, or as some other reports put it, in South Africa.
But that is not to be unexpected because Jesus is Omnipresent.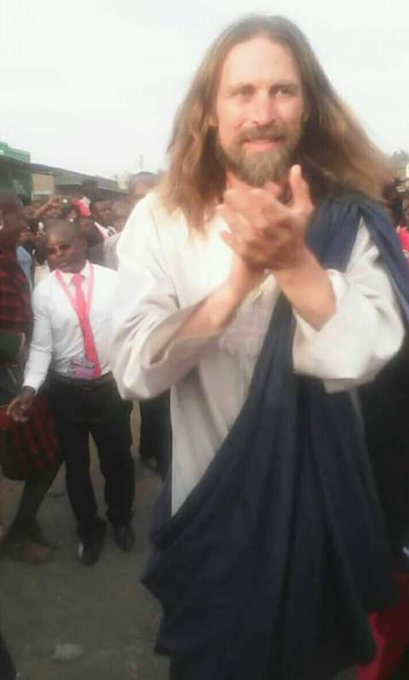 According to unconfirmed reports on ZN News, two Kenyan pastors who claim to have allegedly found Jesus the redeemer, as described in Christian faith, have triggered a social media storm sending shock waves in the Christian community.
In another report, a South African pastor claims he invited Jesus Christ from heaven to preach to his congregation.
This South African pastor backed his claim with photos of his 'Jesus Christ' but according to reports, the main purpose of bringing this 'Jesus' was to educate people that he isn't Jesus of the Bible.
The yet-to-be-identified pastors reportedly invited the 'Jesus' to their churches and had him dressed as the biblical version of the son of God.  
Photos of the Caucasian male speaking to a group of people in what appears to be a church have surfaced on the internet and questions are being asked.
A Twitter user, @Kennytexxkkk shared photos of the same 'Jesus' being introduced by a South African pastor to his members. The pastors allegedly told their congregants that 'Jesus' had returned and lucky for them, He landed in Africa first.
A pastor from South Africa invited Jesus from heaven to preach in his church today.
Local man have seen enough pic.twitter.com/U9BpD3X8N4

— Madridsta 🇳🇬 (@kennytexxkkk) July 28, 2019
My favourite scammer this month is this fella that convinced some people he's Jesus.
💀🤣💀 pic.twitter.com/HErd6DIBmz

— Ottilia Anna MaSibanda (@MaS1banda) July 28, 2019
Another user, @MaS1banda, shared a video of this 'Jesus' dancing in unison to a song being played over some speakers in the presence of some people believed to be members of the church he was invited to.
He was also seen in a video riding a car across the road waving at people who were cheering him on.
A Kenyan Pastor invited a white Jesus impersonator to his church, and he rode across the road waving people, who were cheering him on. pic.twitter.com/4lhgJhGq5H

— Africa Facts Zone (@AfricaFactsZone) July 28, 2019
This is one of many instances where Africans have been spotted hailing white people they believe could be the Jesus Christ of Nazareth seen in movies – the typical white narrative of Christ handed down by the colonial masters to African captives from the 1500s.
The most recent was in March this year when some Congolese football fans were thrilled after spotting a bearded white dude at the stadium and hailed him as Jesus Christ.