Aid agency Plan International says many young ladies are constrained into child marriages by guardians excessively poor, making it impossible to purchase cleanliness items.
Numerous others are compelled into having intercourse by young men who offer to get them sterile things consequently. Some end up pregnant and drop out of school.
Young lady's menstrual wellbeing, typically an unthinkable subject in moderate Uganda, stood out as truly newsworthy this year when a prominent campaigner on the issue was captured and kept for calling President Yoweri Museveni "a couple of bottom" in a Facebook post.
College teacher Stella Nyanzi released a progression of beautiful assaults on the president and his significant other after he neglected to keep a race guarantee to give clean cushions to schoolgirls.
University lecturer Stella Nyanzi unleashed a series of colourful attacks on the president and his wife after he failed to keep an election promise to provide sanitary pads to schoolgirls.
Earlier this year, First Lady Janet Museveni, who is also minister for education, said the government did not have sufficient funds.
Nyanzi promptly launched a crowdfunding campaign #Pads4GirlsUg to collect donations for pads to be distributed at schools.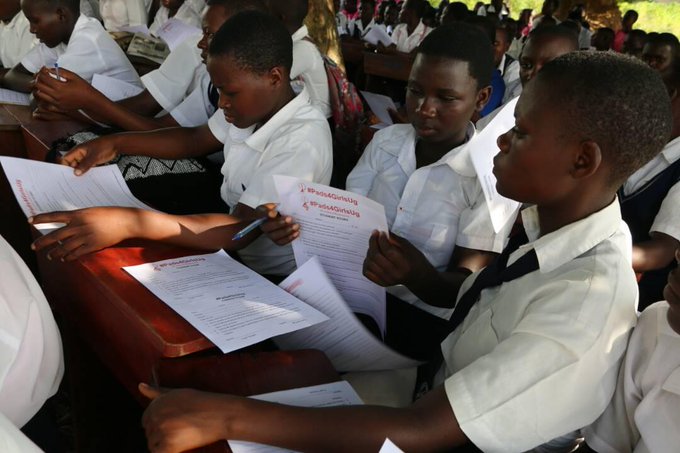 She was released on bail in May after a month behind bars, but is on trial for cyber harassment.
A government official said the education ministry was now in talks with a national charity and a pharmaceutical company with a view to producing free hygiene products for schoolgirls.
Nyanzi's case has shone a spotlight on an issue that development experts say is a major barrier to girls' education.
UN children's agency UNICEF has estimated around 60 percent of girls in Uganda miss class because their schools lack separate toilets and washing facilities to help them manage their periods.
Many fall behind and end up quitting school. Once out of school they are more likely to be married off.
Patrick Adupa, Plan International's child protection programme manager in Uganda, said the lack of menstrual hygiene support for schoolgirls was a strong factor in the country's high drop-out rate.
More than 40 percent of girls fail to complete primary school and only a fifth start secondary school, Adupa said.
"Education is a very powerful tool in the prevention of child marriage," he added.
"When girls are out of school because they cannot manage their periods it's hard for them to avoid marriage."
Although Uganda has banned child marriage, four in 10 girls are wed before they turn 18, and one in 10 before 15, UNICEF says.
Adupa said sanitary products could cost girls around $2 a month – a prohibitive price in a country where nearly one in five people lives on less than $1 a day.
Instead girls often use old rags, dried leaves or grass or paper – sometimes tearing pages from school books.
Auma was lucky. Her mother did not force her to marry and she is now 15 and still in school in Tororo district in eastern Uganda.
At one school, boys told aid workers they thought girls who bled had been victims of sexual violence and drew demeaning pictures on the blackboard.
"The effect on the girls was devastating: many skipped school to avoid the bullying. Some never returned," Adupa said.
To tackle the stigma, several aid agencies have set up menstrual hygiene clubs at schools across the country where girls can make their own reusable cotton sanitary pads with removable waterproof linings.
Boys are included in some clubs, taking the pads they make home to their sisters.
Uganda is not the only country looking at providing free sanitary towels as a way to boost girls' education levels.
Kenya and Zambia have also promised to supply pads to schoolgirls – although aid agency WaterAid said Zambia had yet to commit any funding.