A picture of former Zimbabwean president Robert Mugabe and his wife Grace purportedly watching the inauguration of Emmerson Mnangagwa as president of the country on Friday has gone viral on social media.
In the picture, the Mugabes are dressed in black and as one social media user @KayodeAjulosays, Grace's "facial expression says a lot"
Mnangagwa praised outgoing leader Mugabe as "the father of the nation" during his inauguration address.
View image on Twitter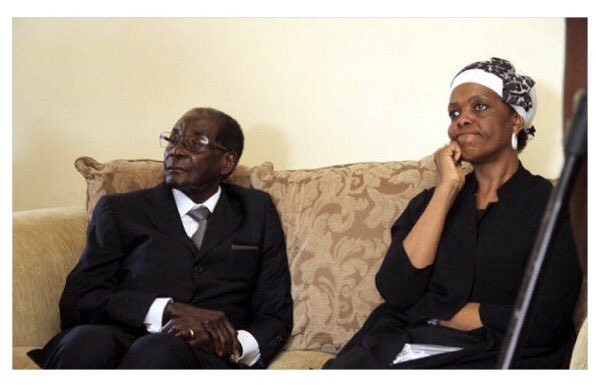 Kayode Ajulo

@KayodeAjulo

Wos…Wobi.
Grace Mugabe & her husband watching the inauguration on TV! Her facial expression says a lot #zimbabwe. 
"
Let me at this stage pay tribute to one of the, and the only surviving, founding fathers of our nation, comrade Robert Gabriel Mugabe," Mnangagwa said in front of a crowd of tens of thousands at his inauguration ceremony. "Let us all accept and acknowledge his immense contribution to the building of our nation." 
I wonder how Former President Robert Mugabe would have felt hearing such consoling words.