Donald Trump (or Donald John Trump Sr.) is a prolific American businessman, investor, TV personality, politician and author. He is the founder of Trump Entertainment Resorts and president and chairman of The Trump Organization. He began his career in the real estate field and diversified into various channels honing his time and investments wisely. He believes in living life to the fullest, is known to be outspoken and candid. Donald Trump became a celebrity after the success of the NBC reality show 'The Apprentice'.
Early Life
Donald Trump was born in June 14, 1946 in Queens, New York to parents Fred Trump and Mary Anne. While his mother was from Scotland, his father, Fred Trump, was an affluent real-estate developer. Donald was one among the five children. Trump studied in the Kew-Forest School in Forest Hills, Queens along with some of his brothers and sisters. Just when he turned into his teens, his parents sent him off to study in New York Military Academy, so that he remained focused instead of dillydallying into other unimportant things. He finally graduated from the University of Pennsylvania with a Bachelor of Science degree, majoring in economics.
Career Rise
Real Estate
Donald Trump began his career in his father's real estate business 'Elizabeth Trump and Sons' which was geared to provide housing to the middle-class people in Staten Island, Brooklyn and Queens. In 1971, Trump shifted base to Manhattan and involved himself in developing and improving the aesthetics of buildings to make them look stellar and purchase-worthy. He transformed the debt-stuck Commodore Hotel, modernized it and transformed it into The Grand Hyatt in 1980. Though he bought the Taj Mahal Casino in 1988; the expansionist move pushed him into business and near- personal bankruptcy.
Trump had turned his bankruptcy around in 1991, by giving away 50 percent of the ownership of the casino to the original stakeholders in lieu of reduced interest payments on the debt and more duration to pay his monies. By the late 90s, he was back in the game. In 2001, he had built the Trump World Tower was then the first, and now the third tallest residential tower in the word, with a 72-story height. His other successful dealings over the turn of the millennium including building of the Trump Place, Trump International Hotel and Tower projects in New York, Chicago, Fort Lauderdale, Honolulu, New York City and Toronto. He also lots of prime-estate land in the swanky Manhattan area.
Investments and Businesses
He owns the Trump Financial, a mortgage company, Trump Restaurants, GoTrump (travel website), Donald Trump The Fragrance (perfume), Trump Home (home décor and furnishings), Trump Sales and Leasing (for home rentals), Donald J. Trump Signature Collection (menswear and accessories), Trump Magazine, Trump Chocolate, Trump Golf, Trump the Game (board game), Trump books, Trump vodka, Trump Shuttle, Trump Model Management, Trump magazine and Trump Productions (TV production company).
Miss Universe Organization
The popular Miss Universe competition the international beauty pageant is run by Miss Universe Organization (founded by Pacific Mills), which was acquired by Donald Trump in 1996, from Gulf+Western Industries. it also produces Miss USA and Miss Teen USA pageants.
Entertainment
Donald Trump is a popular personality, loved and loathed in the entertainment world. He was the executive producer and host of 'The Apprentice', a NBC reality show, where competitors would vie for positions in high-level managerial positions in one of Trump's companies. While he would declare one winner, the others would be fired from the game with the famous, trademark catchphrase from Donald Trump, 'You're Fired'. Donald Trump is paid $3 million per episode, considering the exceedingly popular sway of the show, on the audiences. Trump also produced and co-hosted 'The Celebrity Apprentice' where popular stars compete to win money for charity programs. An avid WWE fan, Trump, a friend of the owner Vince McMahon, has also hosted two World Wresting Mania games in the Trump Plaza.
Politics
Donald Trump has contributed to both Republican and Democratic Party candidates. He backed Mitt Romney as the President of the US in 2012. He has time and again stated that he is against gun-control, pressed for better leadership with Organization for Petroleum Exporting Countries (OPEC) to reduce oil prices, stronger trade talks with China for expansion of trades and curtailing of tariffs. He has expressed his desire to run for the US Presidency in 1988, 2000, 2004, 2012 and 2016. In fact, a Wall Street Journal Report even showed that Trump was ahead of Mitt Romney as a potential Republican candidate for US President run, in 2012. On June 16, 2016, Donald Trump formally announced his application for candidature as President of United States in the 2016 Election.
Donald Trump – Wife and Children
The 1.91 meter tall (6 feet 2 inches) Donald Trump married the Czech-born Ivana Zelnickova in 1977. They have three children, Donald Jr.(born 1977), Ivanka (born 1988) and Eric (1984). The couple divorced in 1992.
In 1993, Trump married Marla Maples and they have one child, Tiffany (born in 1993).
Trump married Melania Knauss (from Slovenia) on Jan 22, 2005 in Palm Beach, Florida. They have a boy called Barron William Trump (born March 20, 2006).
Trump also has 7 grand-children – five kids from his son Donald Jr and 2 from his daughter Ivanka
Donald Trump Jr is the Executive Vice President of the Trump Organization, Ivanka Trump is the Executive Vice President of Development and Acquisitions of the company, apart from being the head of Ivanka Trump Fine Jewelry and Ivana Trump Lifestyle Collection. Eric Trump has the same position as his sister, apart from being a founder of Eric Trump Foundation, which is a social-service wing of the company.
Donald Trump – Family (Pictures)
Wife Melania
Ex-wife Marla Maples
First Wife Ivanka
Children from Ivanka
Daughter from Marla Maples
Son from  Melania
Donald Trump – House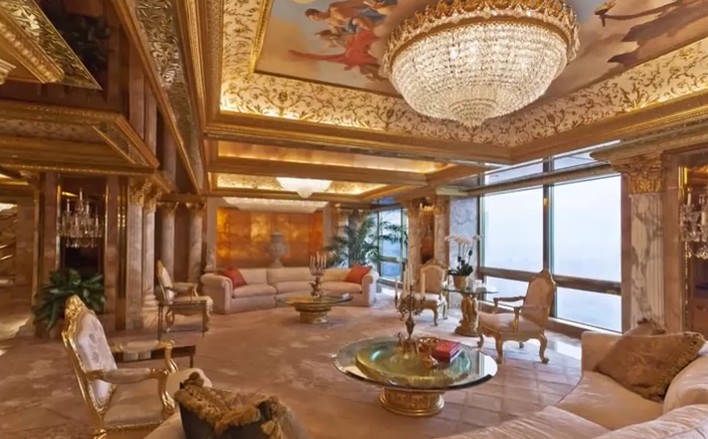 For someone who is proficient at real estate dealings, he has quite a few enviable personal properties. He calls Trump Tower on the 5thAvenue as his pad; it is a 68-story building with a penthouse. The penthouse has a door made of gold and diamond as a cover, high value chandeliers, beautifully crafted ceilings and an indoor fountain.
He also owns the Mar-a- Lago estate in Palm Beach, which he bought for $10 million in 1985. This estate is now converted into a club, covering 17 acres of real-estate. That estate has fifty eight bedrooms, thirty three bathrooms and twelve fireplaces. In 1995, he purchased a 213 acre property worth $7.5 million in Bedford, New York, where he built a mansion called 'Seven Springs'. in 2011, Donald Trump bought Charlottesville Estate from Patricia Kluge for $12.7 million, this includes the sprawling 23,000 square-foot mansion, vineyard and winery. In fact, the vineyard was valued at $70 million but due to recession, the prize dropped massively and Trump bagged a good deal.
Donald Trump – jet planes
Donald Trump is the only US presidential candidate who has a jet plane of his own. He owns a splendid looking Boeing 757-200 airliner. It is called 'Trump' with a huge red 'T' on its four-storey tall tail. It can accommodate 43 passengers on its 24-caret gold-plated seats. It includes a dining, room, huge flat-screen TV, a master bedroom, a guest bedroom and a shower.  The plane is known to be extremely fast and can withstand turbulence.  An expert deemed it as a 'Ferrari' among airplanes. It can traverse 600 miles in an hour and travel 4400 miles without halting. He also owns a Cessna Citation X corporate jet which can accommodate 12 people and two Sikorsky S-76B helicopters.
Donald Trump – Books
Trump has authored many books which include Trump – The Art of the Deal, Think like a Billionaire – Everything You Need to Know About Success, Real Estate and Life, Trump : How to Get Rich, Billionaire Lessons for the Small Investor and The Best Real Estate I Have Ever Received.
Donald Trump – Net Worth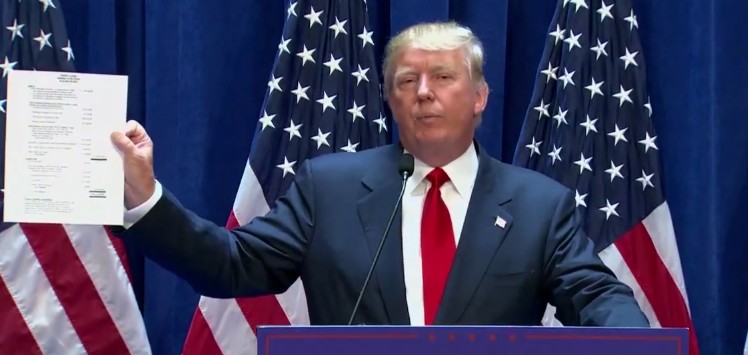 Donald Trump's net worth as on June 6, 2015 is $9 billion. He announced his financial disclosure copy to the media just before announcing his formal candidacy for the President of the US. Though he did not offer himself as a candidate in the 2012 elections, Trump issued a financial disclosure statement which showed a net worth of $7 billion. Candidates who wish to run for Presidency in the US have to make public their financial statements. In both the scenarios, Trump has in excess of $260 million in cash and marginal debt.
Donald Trump who earns a salary of $250 million as the chairman and president of Trump Organization,has stated that he would not take a penny as the President of USA, if he wins the presidential election in 2016.