High quality global journalism requires investment. Please share this article with others using the link below, do not cut & paste the article.
The downturn brings a sense of reckoning to the industry
I
n most other American cities, the sign at the Conoco station advertising petrol for $1.29 per gallon would be welcome. In Spring, Texas, a suburb on the northern side of Houston, it is a warning.
Cheap petrol is a result of the collapse in the oil price, which dropped briefly below $28 a barrel this week, a 13-year low, from $115 for Brent crude in June 2014. It has prompted a grim realisation in Houston, the capital of the US oil business, that the quick rebound many hoped for is not going to come.
High quality global journalism requires investment. Please share this article with others using the link below, do not cut & paste the article.
Dozens of oil and gas companies went into bankruptcy last year, and tens of thousands of jobs were lost, but that was only the beginning. A reckoning is approaching that will sweep away the weaker US oil companies and force profound changes at the stronger ones. It will be a moment of truth for the North American shale revolution, which has transformed prospects for gas and oil in the US.
At $40 for a barrel of oil, the question of whether companies might need to make further big cuts in spending and jobs might have been debatable, says Dennis Cassidy of AlixPartners, a consultancy. At under $30, the question answers itself. "People are not going to press on the brakes," he says. "They're going to slam on the brakes."
The shale revolution cannot be killed: the technological breakthroughs that made it possible cannot be unlearnt. US oil production can be expected to make a comeback when prices rebound. But shale oil companies have been living in an age of innocence: the industry had never seen a downturn. Not any more.
Shale today feels like information technology did as the dotcom bubble burst in 2000. Technological progress has created opportunities that will shape the world for decades to come. But investors who were lured by that promise into making rash commitments are going to lose a lot of money, and that will have lasting effects, too.
For the past 18 months, the global oil market has been oversupplied because of a surge in output from Iraq and Saudi Arabia, which made a strategic decision to abdicate its traditional role attempting to deliver price stability through changes in production. Ali al-Naimi, Saudi Arabia's oil minister, has denied that the kingdom is trying to kill the US shale industry, but said it was not prepared to cede market share to subsidise higher-cost producers.
Now, concerns about demand have started to emerge. This week the International Energy Agency warned that with extra supply from Iran starting to come to the market after international sanctions were lifted last weekend, the oil market "could drown in oversupply".
Oil has rebounded to about $31 in the past couple of days but is still down around 16 per cent this year. The price slump contributed to the brutal sell-off in global equity markets that shaved off $4tn in value this year before stocks began staging a rebound on Thursday. Investors have been concerned not only about oil companies but also the knock-on effects on suppliers, jobs and banks. There are also signs of financial strain in oil-producing countries.
At around $30 a barrel, a level that Saudi Aramco chairman Khalid al-Falih described as "irrational" at the World Economic Forum in Davos, there is very little US shale production that is economically viable. Companies have achieved remarkable gains in productivity by optimising production techniques and drilling only in the "sweet spots" that generate the most. They have also been driving down the prices they pay their suppliers and contractors. Jim Burkhard of IHS, the research group, says the cost of drilling and completing a typical shale well fell 35-40 per cent last year.
Even so, most shale wells would still lose money at these prices . "The cost of drilling new wells has plummeted in US shale, but not by as much as the oil price," Mr Burkhard says. "$30 oil is suffocating."
The effect of that is to call into question the entire business model that made the US shale oil boom possible. US crude production rose from 5.1m barrels a day at the start of 2009 to 9.7m b/d in April last year, a surge that has few parallels in the industry's history. This is in part because of advances in the techniques of hydraulic fracturing and horizontal drilling, but also because of the easy availability of financing.
The small and medium-sized companies that led the shale revolution raised $113bn from selling shares and $241bn from selling bonds during 2007-15, according to Dealogic.
For a while, the industry was blessed by a uniquely favourable alignment of circumstances, says Trevor Wallace of PetroMark Energy Group, an investment company. The technological breakthrough came at a time when money was cheap and oil was expensive.
"Because it looked as though they were succeeding with shale, which had looked untappable , the attention of investors was drawn to these opportunities," Mr Wallace says. "It was so exciting, the rate at which efficiency was improving. But it was based on an artificial price environment."
The fast-moving companies that were able to tie up drilling rights in the most productive areas will survive, he says. For others, shale was like the siren's song: "You get lured in, and then you crash on the rocks."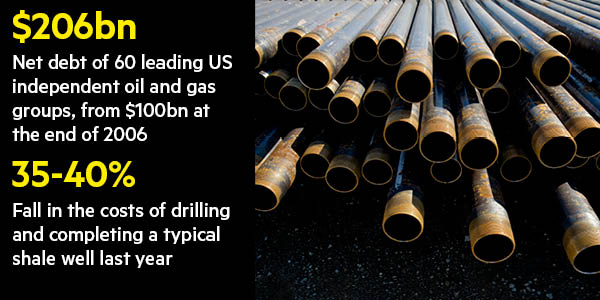 Colin Fenton of Blacklight Research says the US Federal Reserve's near-zero interest rate policy, which started from late 2008, "overstimulated debt-driven investment in energy supply". Low rates drove investment in marginal US shale projects "that are uncompetitive at lower prices and now need to be unwound", he wrote in a recent note.
The boom years left the US oil industry deep in debt. The 60 leading US independent oil and gas companies have total net debt of $206bn, from about $100bn at the end of 2006. As of September, about a dozen had debts that were more than 20 times their earnings before interest, tax, depreciation and amortisation.
Worries about the health of these companies have been rising. A Bank of America Merrill Lynch index of high-yield energy bonds, which includes many indebted oil companies, has an average yield of more than 19 per cent.
Almost a third of the 155 US oil and gas companies covered by Standard & Poor's are rated B-minus or below, meaning they are at high risk of default. The agency this month revised down its expectations of future oil prices, meaning that many of those companies' ratings are likely to be cut even further. Credit ratings for the more financially secure investment grade companies are also likely to be lowered this time.
High quality global journalism requires investment. Please share this article with others using the link below, do not cut & paste the article.
Some companies under financial strain will be able to survive by selling assets. Private capital funds raised $57bn last year to invest in energy, according to Preqin, an alternative assets research service, and most of that money is still looking for a home.
Companies with low-quality assets or excessive debts will not make it. Tom Watters of S&P expects "a lot more defaults this year".
Bankruptcies, a cash squeeze and poor returns on investment mean companies will continue to cut their capital spending. The number of rigs drilling oil wells in the US has dropped 68 per cent from the peak in October 2014 to 510 this week, and it is likely to fall further.
So far, the impact on US oil production has been minimal. Output in October was down 4 per cent from April, as hard-pressed companies squeeze as much revenue as possible out of their assets.
Saudi

Arabia's strategy of allowing oil prices to fall to curb competing sources of production appears to be

succeeding
But Harold Hamm, chief executive of Continental Resources, one of the pioneers of the shale boom, says the downturn in activity is likely to intensify.
"We're seeing capex being slashed to almost nothing," he says. "At low prices, people aren't going to keep producing." He expects US oil production to fall sharply this year, and says people may be surprised by how fast it goes.
Eventually, declining output in the US will help rebalance the global oil market. Once the price returns to $50-$60 a barrel, it will stimulate enough new drilling in the US to stop the decline in production, according to Skip York of Wood Mackenzie, the consultancy.
However, there are reasons to believe the growth rates seen in the first shale boom will not be back for a long time.
First, some long-term damage will have been done to the industry's infrastructure and its skills base. The US oil and gas industry has lost 86,000 jobs over the past year, about 16 per cent of its workforce, and many of those people will never return. When the industry does want to expand again, it will need to offer attractive wages and training, which will raise costs.
Second, the industry will have taught a costly lesson to investors about the inherent cyclical nature of commodity businesses. "Lenders can't come back the way they did before," says Allen Gilmer of Drillinginfo, a data analysis firm. "The assumption then was that there wasn't this kind of downside risk for the creditors. Now that risk has to be taken into account."
That means financing is likely to be more expensive and harder to find. Saudi Arabia's strategy of allowing oil prices to fall to curb competing sources of production appears to be succeeding.
"They have cut the cash available to finance new resources," Mr Gilmer says. "If the intention was to handicap US shale, they've done a fantastic job of it."