The Champions League match between Paris Saint-Germain and Istanbul Basaksehir was abandoned last night after the two squads walked off amid allegations of racism by fourth official Sebastian Coltescu.
The Group H encounter was suspended in the 16th minute after Basaksehir's Cameroonian assistant manager, Pierre Webo was allegedly racially abused by the official after an incident on the touchline.
Webo, 38, accused Coltescu of racism after being shown a red card, with footage from the incident appearing to show him saying in Romanian: 'The black one over there. Go and check who he is. The black one over there, it's not possible to act like that' after Webo vehemently protested against a refereeing decision.
It is believed Coltescu said 'negru', the Romanian word for black.
A furious Webo heard this and immediately accused Coltescu of racism. He had to be restrained by other members of the coaching staff as he was shown a straight red card.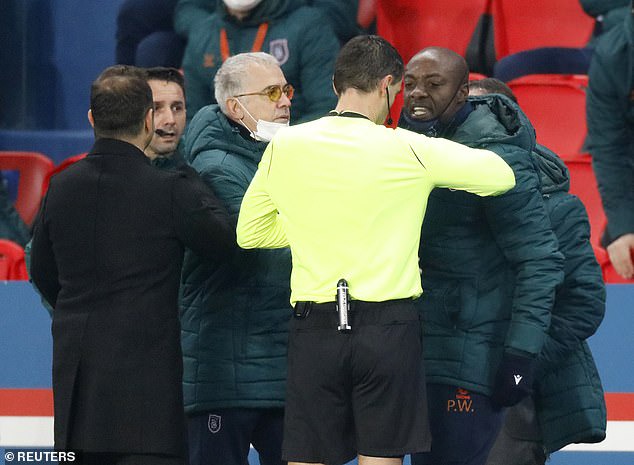 Pierre Webo pictured right
Basaksehir striker, Demba Ba was seen angrily confronting the official in question in defense of Webo before the players returned to the changing rooms in the French capital.
The ex-Chelsea striker, a substitute for the Turkish side, charged in the direction of Coltescu to question why he had used the word to identify Webo.
He said: 'You never say "this white guy", you say "this guy", so why when you're mentioning him… listen to me… why when you mention a black guy, why do you say "this black guy".'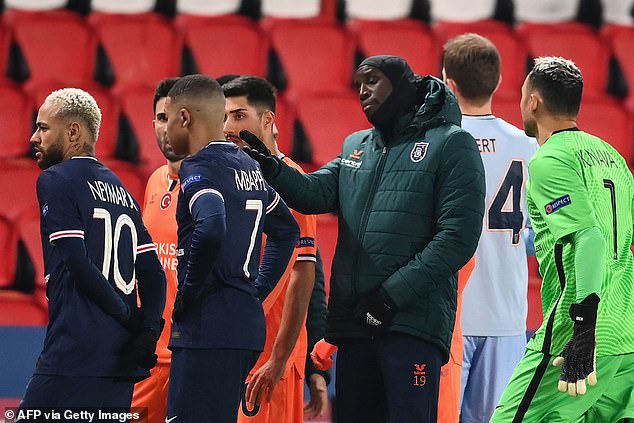 After a lengthy delay, the game was eventually called off with the remaining minutes to be played on Wednesday at 6:55pm local time with a new refereeing team in charge led by Holland's Danny Makkelie.
Fourth official Sebastian Coltescu accused of making the racist remark on the touchline
A UEFA statement read: 'Following an incident at tonight's UEFA Champions League match between Paris Saint-Germain and Istanbul Basaksehir, UEFA has – after discussion with both clubs – decided on an exceptional basis to have the remaining minutes of the match played tomorrow with a new team of match officials.
'The kick-off has been set at 18:55CET. A thorough investigation on the incident that took place will be opened immediately.'
Watch the video from the incident below.