As subtle as she is in discharging her duties, she commands a great deal of respect in the country. Many have described her as the power house of Uhuru Kenyatta who was recently inaugurated for the 3rd consecutive time as Kenyan president.
She is an alumnus of Kianda School, St. Andrews School, Turi and Kenyatta University. 
Margaret is the 3rd Kenyan first lady, after Lucy Kibaki and Ngina Kenyatta. She will be the 2nd first lady from the Kenyatta family.
1. Has A Kenyan-German Bloodline
Margaret Gakuo Kenyatta was born on April 8, 1964.
The Gakuo family is a prominent Kenyan family. Her father, Dr Ephantus Njuguna Gakuo worked for a long time in the development of Kenyan Railways. He was the first African managing director of Kenya Railways after taking over from GPG Mackay in 1964.
Prior to his committed services to the Railways, he lectured for 3 years at Delhi University. Dr Gakuo obtained his BA and MA degrees in Commerce from the Delhi School of Business in 1955. Furthering his education, he obtained a PhD in Economics from Frelberg University in 1960. Dr Gakuo taught for a year in Germany before returning to his home country.
Gakuo married a German wife Magdallena, the mother of Margaret and his brother, Maina Gakuo.
2. Humanitarian
On the humanitarian level, Margaret passionately campaigns for a lesser child mortality rate in Kenya; this earned her the 2014, UN person of the year.
The amiable Kenyan first lady will be remembered for the Beyond Zero Campaign, a nationwide health initiative but most targeted for mothers in the grassroots. It was launched on January 24, 2014 to improve maternal and child health care/outcomes in the country.
Beyond Zero initiative is primarily for the purpose of creating awareness and promoting ways of eradicating preventable mortality rates at child birth, the First Lady Half Marathon was organized. The race was organized to raise funds for Beyond Zero Campaign. 
"I will run because I am a mother, and I believe motherhood is a blessing not just to a woman, but to a nation. I will run because every mother should be able to hold her baby and take her baby home… I will run until we go Beyond Zero. No more preventable deaths of mothers and children."

"I will run to raise funds to increase access to better health care through mobile clinics that will bring services closer to Kenyans."

"The greatest compliment to a nation is strong, healthy citizens. Join me in running for the survival of our mothers and children and ultimately for the health of Kenya."
Margaret Kenyatta bravely took on the challenge and ran the 42 kilometers race in London. This made her the first African First lady to do so.
The Beyond Zero Campaign has so far raised funds for over 30 mobile clinics in Kenya.
Margaret's dedication for the Beyond Zero campaign is rooted in her own past pain of loosing a baby about 2 decades ago. The Kenyattas lost their second daughter immediately after childbirth.
3. Down To Earth
The most striking characteristics of Margaret is her down to earth and simple personality.
While kicking off free maternity programmes in West Pokot County, the first lady was seen interacting with the locals. Pictures are seen where she went as far as assisting some in their domestic chores.
4. Uhuru's Power House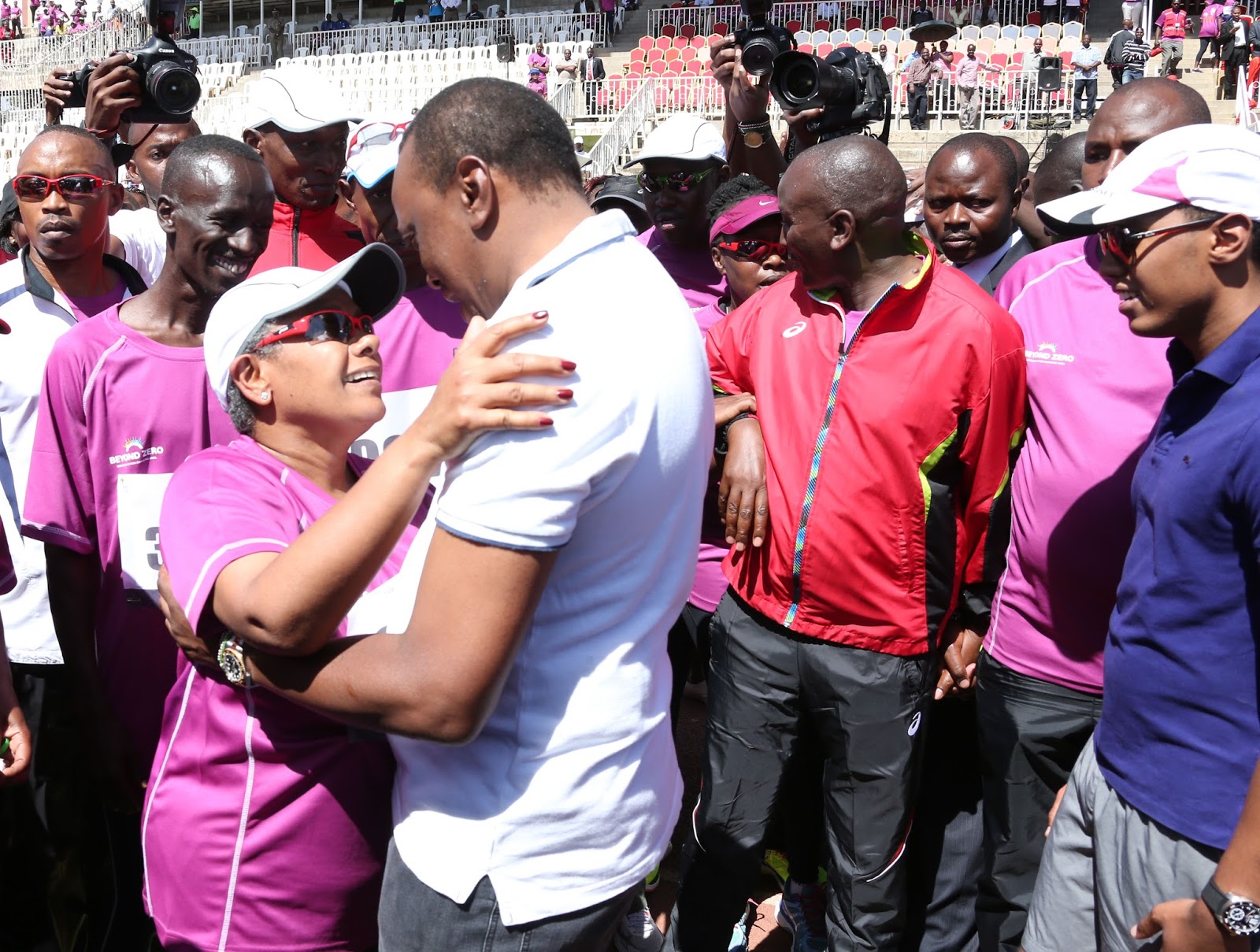 Margaret is yet another simple but powerful personality whose skills and charisma are tagged the secret ingredients for Uhuru's successful campaigns.
Uhuru and Margaret Kenyatta were high school friends who later became a couple in 1989. They were married at Holy Family Basilica in Nairobi. From 2013 till date, they have been Kenya's first family.
Together they have three children- Jomo, Jaba and Ngina Kenyatta. The Kenyattas are considered one of Africa's power couples. They became grandparents a day before Uhuru's inauguration.
5. Fashionable
Margaret Kenyatta often makes a fashion statement that is hard to ignore with her choice of simple but outstanding outfits. Be it a formal, semi-formal or informal occasion, the beautiful first lady is always classy.