Nelson Mandela is one of Africa's biggest activist, politician, statesman. Above that, he is a global icon who stands for many values.
The South African Government celebrates Madiba throughout the month of July. The United Nations has slated July 18 as Nelson Mandela International Day according to a General Assembly resolution (A/RES/64/13)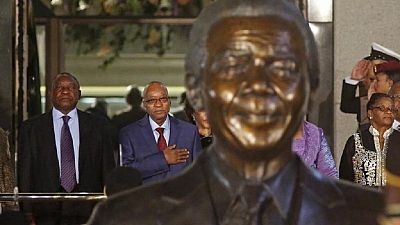 As part of our celebration of a truly global icon, Africanews web team follow the tracks of Mandela who was a shining light at the political and human rights level. We will present a daily FACT about his life and a QUOTE from Madiba
The world remains beset by so much human suffering & poverty. It's in our hands to make our world a better one for all.
Stay with us throughout the Mandela month
Mandela Memorial Day 14 (July 18)
TODAY (July 18 is NELSON MANDELA DAY!
#MadibaFACT
Nelson Mandela followed three rules throughout his life, which he did at great personal sacrifice:
Free yourself.
Free others.
Serve every day.
#MadibaQUOTE
"Comrades and fellow South Africans, I greet you all in the name of peace, democracy and freedom for all. Your tireless and heroic sacrifices have made it possible for me to be here today. I stand here before you not as a prophet but as a humble servant of you, the people. I therefore place the remaining years of my life in your hands.
Mandela addressing a crowd after his release from prison
Mandela Memorial Day 13 (July 17)
#MadibaFACT
In 2009, Mandela votes for the fourth time in his life and turns 91
The UN declares 18 July Nelson Mandela International Day in recognition of Nelson Mandela's contribution to global peace and freedom.
#MadibaQUOTE
"Defiance was a step of great political significance. It released strong social forces which affected thousands of our countrymen. It was an effective way of getting the masses to function politically, a powerful method of voicing our indignation against the reactionary policies of the government."
Mandela said in 1952 during the start of the defiance campaign
Mandela Memorial Day 12 (July 16)
#MadibaFACT
In 2003, Madiba established the Mandela Rhodes Foundation
According to the website of the Foundation, it's vision is ''… to build exceptional leadership capacity in Africa (whilst also seeking to foster better reconciliation and entrepreneurship) through its various programmes and, to this end, aims to be the leading protagonist in Africa for such endeavours.
We do this in the firm belief that, in the words of our Founder and Patron, Mr Nelson Mandela, "…the work of The Mandela Rhodes Foundation will substantively contribute to a better life for the people
Mandela's compatriot in the Foundation 'Cecil John Rhodes' who died in 1902, was a British businessman, mining magnate and politician in South Africa, who served as Prime Minister of the Cape Colony from 1890 to 1896.
#MadibaQUOTE
"A new generation of potential leaders is beginning to emerge on the African continent. The Mandela Rhodes Foundation will nurture these young people, helping to stimulate their creativity, even as they acquire the skills that will help reshape the destiny of our continent."
Mandela Memorial Day 11 (July 15)
#MadibaFACT
There is a hallway in Oprah Winfrey's Harpo Studios named after Nelson Mandela. ''The Nelson Mandela Hallway'' was named after Madiba because after his interview with Oprah a year after stepping down as president (2000) he shook hands and took pictures with the over 300 employees of the company whiles Oprah walked him out of the building.
#MadibaQUOTE
''You must fight the battle for dignity the very first day you go to jail, and that is what we did. We put our foot down and insisted in being respected even though we were prisoners and we eventually succeeded in that.
I was in the company of great men indeed, some of them more qualified and more talented than I am. (And) to sit down with them to exchange views was one of the most revealing experiences I have. To sit down and exchange views with those men, it enriched your whole life.''
Mandela speaking to Oprah in an interview in 2000, summarizing his life story in one hour.
Mandela Memorial Day 10 (July 14)
#MadibaFACT
In 2010: Nelson Mandela speaks about what it means for South Africa to host theFIFA World Cup after he is formally presented with the FIFA World Cup trophy before it tours South Africa.
He later made a surprise appearance at the closing ceremony of the first World Cup event on African soil.
Photo: Former South African President Nelson Mandela and his wife Graca Machel wave to fans during the closing ceremony of the 2010 World Cup at Soccer City stadium in Johannesburg July 11, 2010.
#MadibaQUOTE
"There are few experiences in life as painful as that of a parent losing a child to death. No matter what the circumstances are, that loss cuts to the core of our relationships as human beings."
Mandela said as he attended the funeral of his great-granddaughter, Zenani, who was killed in a car accident.
Melson Mandela's message regarding the FIFA 2010 World Cup
Mandela Memorial Day 9 (July 13)
#MadibaFACT
There is a Nelson Mandela Tributes Database which consists of tributes, honours and awards bestowed on the late Mr Nelson Mandela. It includes tributes he received while in prison, after his release, while he was President of South Africa, during his retirement and posthumously.
#MadibaQUOTE
Friends, 20 years ago London hosted a historic concert which called for our freedom. Your voices carried across the water to inspire us in our prison cells far away. Tonight, we are free. We are honoured to be back in London.
As we celebrate, let us remind ourselves that our work is far from complete. Where there is poverty and sickness, including AIDS, where human beings are being oppressed, there is more work to be done. Our work is for freedom for all … We say tonight, after nearly 90 years of life, it is time for new hands to lift the burdens. It is in your hands now, I thank you.
Mandela addresses 46664 Hyde Park Concert in London to celebrate his 90th birthday (27 June 2008)
Mandela Memorial Day 8 (July 12)
#MadibaFACT
On 11 February 1990 Nelson Mandela is finally released from prison, he subsequently gives a speech in Cape Town on the day he was set free.
#MadibaQUOTE
"Let us remember that despite oppression, despite hangings, bannings, imprisonments and exile, our Liberation Movement united like no other in the world."
Mandela Memorial Day 7 (July 11)
#MadibaFACT
April 20, 1964 Mandela delivered his famous speech from the dock in the Rivonia Trial
At the start of the defence case in the trial, Mandela delivered a speech from the dock that became known as his "Prepared to Die" speech.
#MadibaQUOTE
"I have fought against white domination, and I have fought against black domination. I have cherished the ideal of a democratic and free society in which all persons live together in harmony and with equal opportunities. It is an ideal which I hope to live for and to achieve. But if needs be, it is an ideal for which I am prepared to die."
Mandela Memorial Day 6 (July 10)
#MadibaFACT
In 1962, Mandela left South Africa for military training and to garner support for the ANC
#MadibaQUOTE
''The only thing my father bestowed upon me at birth was a name, Rolihlahla. In Xhosa, Rolihlahla means pulling the branch of a tree''
Mandela Memorial Day 5 (July 9)
#MadibaFACT
In 1952, Mandela was elected Transvaal ANC President; convicted with JS Moroka, Walter Sisulu and 17 others under the Suppression of Communism Act; sentenced to nine months' imprisonment with hard labour, suspended for two years; elected first of ANC deputy presidents; opens South Africa's first black law firm with Oliver Tambo.
#MadibaQUOTE
''As I am former prisoner number 46664, there is a special place in my heart for all those that are denied access to their basic human rights.''
Mandela Memorial Day 4 (July 8)
#MadibaFACT
Mandela was baptised in the Methodist Church and was educated in Wesleyan schools – Clarkebury, Healdtown and at Fort Hare. At Fort Hare he became a Sunday school teacher.
#MadibaQUOTE
"The apartheid regime had put law and order in disrepute. The human rights of the majority of the population were ruthlessly suppressed, there was detention without trial, torture and murder of political activists."
Mandela Memorial Day 3 (July 7)
#MadibaFACT
Mandela's father, Gadla Henry Mphakanyiswa, died when he was 12 years (in 1930), he was entrusted to Thembu Regent Jongintaba Dalindyebo, a regent of the Thembu, Jongintaba Dalindyebo.
While his autobiography,  Long Walk to Freedom, says Mandela's father died when he was nine, historical evidence shows it must have been later, most likely 1930. In fact, the original Long Walk to Freedom  manuscript (written on Robben Island) states the year as 1930. This date also appears in a document written in Mandela's own hand in 1964.
#MadibaQUOTE
"I always remember the regent's axiom: a leader, he said, is like a shepherd. He stays behind the flock letting the most nimble go on ahead, whereupon the others follow, not realising that all along they are being directed from behind."
Mandela Memorial Day 2 (July 6)
#MadibaFACT
He attended primary school near Qunu, where he received the name 'Nelson' from a teacher.
Qunu is a small rural village in South Africa's Eastern Cape province. In his autobiography, Long Walk to Freedom, Mandela describes Qunu as where he spent the happiest moments of his childhood.
#MadibaQUOTE
"No one is born hating another person because of the colour of his skin, or his background, or his religion. People must learn to hate, and if they can learn to hate, they can be taught to love, for love comes more naturally to the human heart than its opposite."
Mandela Memorial Day 1 (July 5)
#MadibaFACT
Rolihlahla Mandela was born into the Madiba clan in the village of Mvezo, Transkei, on 18 July 1918. 'Nelson' was not part of his original name. His mother was Nonqaphi Nosekeni and his father was Nkosi Mphakanyiswa Gadla Mandela, principal counsellor to the Acting King of the Thembu people, Jongintaba Dalindyebo.
#MadibaQUOTE
"It is in your hands, to make a better world for all who live in it. After climbing a great hill, one only finds that the are many more hills to climb. I have a special attachment to the people who befriended me during times of distress. I am not a saint, unless you think a saint is a sinner who keeps trying."
– 81-year-old Mandela at Houston in 1999.
July is #MandelaMonth, this month South Africans honour & remember our beloved former President Nelson Mandela pic.twitter.com/fH65luT7UK

— South African Gov (@GovernmentZA) July 1, 2016
Credit to @nelsonmandela and nelsonmandela.org