For the past few days, Melania Trump, the First Lady of the United States, has begun an African tour in which she visited Ghana, Malawi and Kenya. Although his first two visits were uneventful, Kenya's third stop was a volley of criticism and mockery. Originally critics of her outfit and specifically the hat she has worn.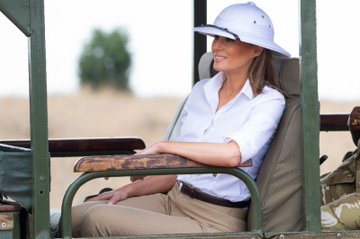 But it is especially his colonial helmet (or salacot) that caught the attention.
This salacot remains until now the conception as a symbol of domination: it was worn only by the colonists, owners of agricultural estates and slaves.
"Elephants, orphans and even colonial helmet: Melania Trump succeeds the trifecta of stereotypes" 
 on Africa, said Matt Carotenuto the professor of African history, on Twitter. 
"It's like going to a meeting of African-American cotton producers dressed in a Confederate uniform … The historical context is important,"
 Matt Carotenuto insisted. 
"Tintine Trump in Kenya"
 , mocks a journalist from Europe 1.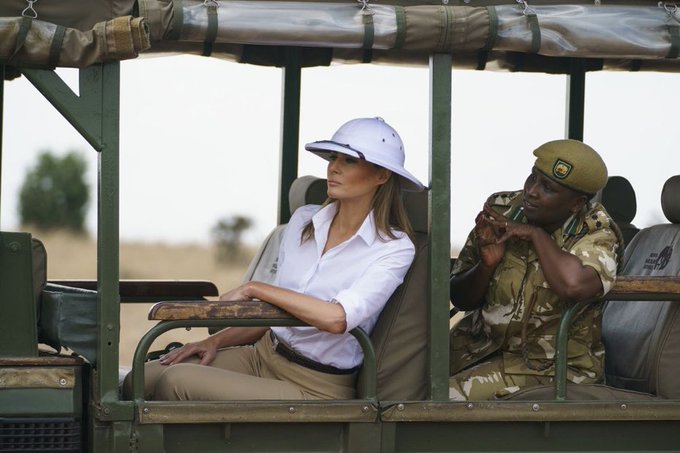 Another Internet user invented a discussion between Melania Trump and the White House staff:
"What should I wear during my African tour to pay homage to the culture and history of my hosts?
– A colonial helmet. Definitely. "
In Kenya, the First Lady of the United States first visited the David Sheldrick Wildlife Fund (DSWT), where she fed a baby elephant. Subsequently, Melania Trump participated in a safari in Nairobi National Park wearing a white colonial helmet. His visit to the capital ended with a visit to an orphanage and a theater performance.