This is the most inspiring story of the American election. Tammy Duckworth, who lost both her legs in the 2004 Iraq War, is the now the first Asian American Senator from the state of #Illinois.
While Hillary Clinton's misfortune to Donald Trump is the greatest subject of the American decision cycle, it has occupied from the most moving story of Tammy Duckworth who simply won a seat in the Senate that used to have a place with Barack Obama.
The 48-year-old PhD-holding Lieutenant Colonel was born in Thailand to an American father and a Thai mother. In 2004, she was deployed to Iraq as part of the National Guard.There, she became one of the first Army women to fly combat missions during Operation Iraqi Freedom until her helicopter was hit by a rocket propelled grenade later that year. She lost both her legs and partial use of her right arm and was awarded a Purple Heart.
After extensive rehabilitation and a year's stay in the hospital, she became an advocate for soldiers and wounded veterans.
View image on Twitter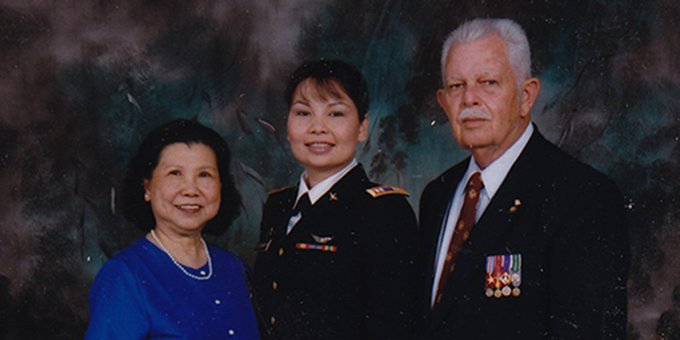 Tammy Duckworth

✔@TammyforIL

My mom is an immigrant and my dad and his family have served this nation in uniform since the Revolution #ILSEN

10,93110,931 Retweets

24,02724,027 likes
Tammy Duckworth first made a bid for office in 2006 but she lost. She then took a job running her home state's Department of Veterans' Affairs, and in 2009, President Obama eventually appointed her Assistant Secretary of Veterans' Affairs on a federal level. In 2012, Duckworth tried again and was successfully elected to Congress.Her ascension to Senator came after a very vitriolic campaign with the incumbent, Mark Kirk that saw her mocked for her Asian heritage and disability. She eventually won the constituency that Obama used to serve.
When she gave her acceptance speech in Chicago, she spoke about the tragic turn of events 12 years ago that changed her life. 'I'm here tonight because of the miracles that occurred twelve years ago this Saturday, above — and in — a dusty field in Iraq,' she told a group of her supporters on Tuesday. 'Just as I try every day to live up to the sacrifice my buddies made to carry me off that battlefield, I will go to work in the Senate looking to honor the sacrifice and quiet dignity of all those Illinoisans who are facing challenges of their own. I believe in an America that doesn't give up on anyone who hasn't given up on themselves.'
Her story is sure to inspire many people that it is possible to achieve your dreams in spite of a debilitating disability. Hillary Clinton may have not won the presidency but her campaign is indeed historic. Tammy Duckworth's senate win is equally historic and, considering her background and disability, by far more inspiring.