Latest news coming out of New York is that Matchroom boxing is suing world unified heavyweight champion Andy Ruiz AKA Andres Ponce Ruiz for not agreeing to fight Anthony Joshua in the rematch of their world title first on 7th Of December, 2019 in Dariya, Saudi Arabia.
Andy Ruiz had initially tried to demand for more money when he found out the amount of money Anthony Joshua will be making from the bout, but Eddie Hearn has been adamant that the contract has already been signed and Andy Ruiz just needs to show up at the venue of the rematch to complete the contract he signed with Anthony Joshua. We will wait to see how this turns out.
UPDATE: Andy Ruiz has finally signed and agree to the rematch bout following the litigation threat from Matchroom boxing. Andy Ruiz is now claiming that he will end Anthony Joshua's career in Saudi Arabia, here is what he posted on his twitter page:
Quote
I dethroned the king June 1st and made history becoming the
first
Mexican/American Heavyweight Champion of the world. I'm looking forward to ending his career in the
desert
. Mostrare la grandeza del boxeo mexicano en Arabia Saudita.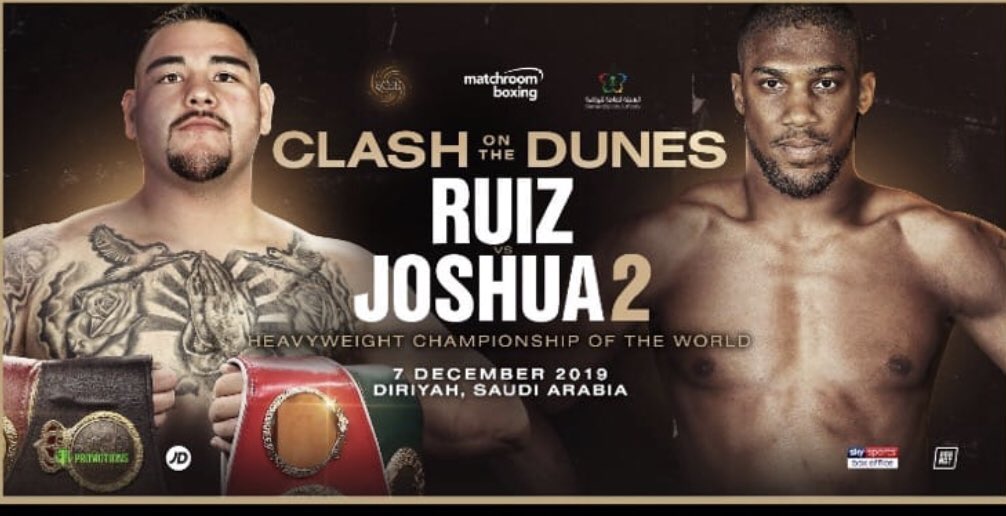 He also posted this on his instagram page:
Quote
I'm excited to announce my rematch with Anthony Joshua. In the first fight I made history and became the first ever Mexican/American heavyweight champion of the world. I am grateful to Saudi Arabia for inviting me. I took it to AJ in The Big Apple and I'm looking forward to ending his career in the Desert. Don't miss this fight! Mostraré la grandeza del boxeo mexicano en Arabia Saudita y en todos los rincones del mundo. Viva Mexico!!!"
In any case, the thrash talk has started and banters are already flying, maybe the best man win.