Somali-born US congresswoman Ilhan Omar has trolled President Donald Trump with pictures from her recent trip to Ghana.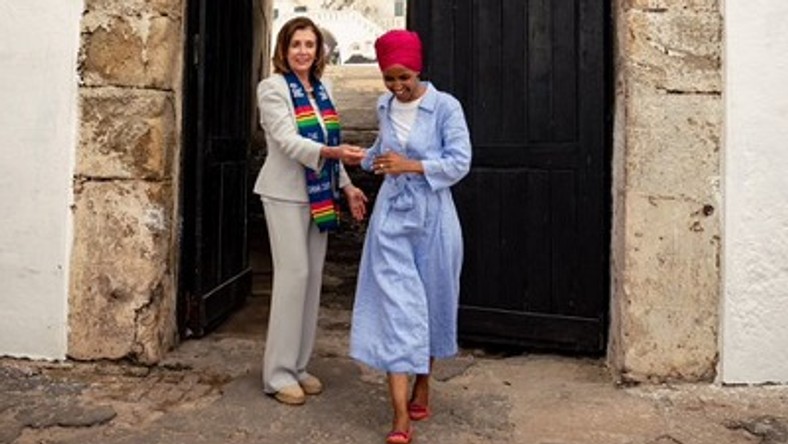 Her troll is coming after President Trump said that some Democratic Congresswomen have to "go back and help fix the totally broken and crime-infested places which they came from".
Even though President Trump did not mention any names in his tweet, the majority of news outlets and social media users assumed that he was referring to new Congresswomen, including Omar, Alexandria Ocasio-Cortez, Rashida Tlaib, and Ayanna Pressley.
He as well suggested that Speaker Pelosi would be "very happy to quickly work out free travel arrangements".
Days after his comments, people attending his campaign rally broke into a chant of "Send her back!" when the president was talking about Omar.
In response to President Trump's comment, Ilhan Omar shared a photo of herself and House Speaker Nancy Pelosi in Ghana.
She posted: "They said "send her back" but Speaker @SpeakerPelosi didn't just make arrangements to send me back, she went back with me ✊🏽 So grateful for the honor to return to Mother Africa with the @TheBlackCaucus and commemorate The Year of Return! #Doorofreturn #Ghana".
Ilhan Omar was among Members of the US Congressional Black Caucus who travelled to Ghana with Ms Pelosi. The Minnesota 5th congressional district representative received a huge cheer when she was introduced to Ghana's Parliament by Ms Pelosi on Wednesday.
She was born in Somalia and became a US citizen as a teenager.
About Ilhan Omar
Ilhan Abdullahi Omar (born October 4, 1982) is an American politician serving as the U.S. Representative for Minnesota's 5th congressional district since 2019. The district includes all of Minneapolis and some of its suburbs.
Omar was elected to the Minnesota House of Representatives in 2016 on the Democratic–Farmer–Labour Party line. In 2018, she was elected to the U.S. House of Representatives, marking a number of historic electoral firsts: she is the first Somali-American, the first naturalized citizen from Africa, and the first non-white woman elected from Minnesota, and one of the first two Muslim women (along with Rashida Tlaib of Michigan) to serve in Congress.